Volume 13, Issue 1- January 25, 2011
******************************************************
The following is our brand new work out video. This video will show you how to have that body you always dreamed about while doing every day ordinary things 🙂

Greetings!
In this Issue:
I explain exactly what is happening with home prices in "Westlake, OH and surrounding" in 2011
How to Make 2011 the Best year EVER.
We answer the question, "Why is my Agent Trying to Talk Me out of Buying a Short Sale
******************************************************************************
So what happened with home prices in "Westlake OH"?
The NUMBERS for 2011:
Westlake OH Homes on the Market RIGHT NOW: 151
Westlake OH Condos on the market RIGHT NOW: 147
Westlake OH Average Days on Market: 183
Westlake OH Selling Price to List Price Ratio:  .91
Westlake OH Median List Price: $254,200
Westlake OH Median SALE Price $244,000
The housing market is dropping and rising in different areas of the country. In Westlake Ohio here is a chart that shows what has happened.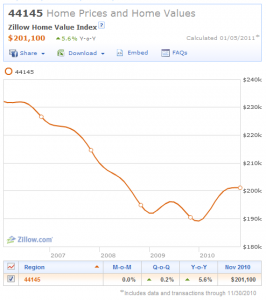 You will notice that home values in Westlake OH at the start of 2010 were down about 20% from their top levels in 2007.  You will also notice that the automatically calculated z-estimate value for Westlake OH was up in the last year about 5% which is excellent news.
So what does this mean to you as a homeowner, potential seller or potential buyer in the real estate Market?We saw a BIG Price drop from the tax credit expiring and you need to be realistic on where you price your home when you choose to sell. The good news is that the deals are OUT there right now. If you have been sitting on the sidelines waiting for the market to hit bottom, consider jumping in, because although there is still a size able shadow inventory of foreclosed homes, the market seems to have adjusted to a new higher foreclosure rate.
Because interest rates are starting to CLIMB right now many folks are looking to BUY NOW:
Low interest Rate for 30 years.
Homes for sale at never before seen prices.
Now is the time to buy. Get started before all the other buyers come in the market in the spring.
Check out my website for amazing deals at "https://rtserve.com", or give me a call at "216-324-6637".
Sincerely,
Andrew Morris
******************************************************************************
Normal People who Changed Their Life: Real Life Stories to help you make 2011 your best year!
I love inspirational stories about normal people who were told they could NOT accomplish anything in life. They refused to listen to the negative people who said, "you can't", and turned their life around. Here are some inspirational stories:
• Beethoven – Beethoven's music teacher told him he was a hopeless composer.
• Thomas Edison – He is known as the inventor that has more patents than about anybody else. He holds 1,093 US patents as well as many in France, UK, and Germany.
When Thomas was 4, he was sent home with a note from the teacher, "Your son is too stupid to learn". Wow, that is tough especially coming from a teacher. His mom decided to teach him school herself. The rest is history.
• Mark Victor Hansen & Jack Canfield – These are the authors of the Chicken Soup for the Soul series. They were turned down by 50 book publishers before somebody finally agreed to take a chance. They have since sold over 75 million copies.
• Michael Jordan – He was cut from his high school basketball team. Michael Jordan quote, "I've failed over and over again in my life, and that is why I succeed."
• Einstein – He was considered an "unteachable" fool by his early teachers.  Glad he did not listen and helped end World War II.
The moral of the story: Don't listen to anybody who says you can accomplish whatever you set your mind to in 2011.
******************************************************************************
Why is my Agent Trying to Talk Me out of Buying a Short Sale?
The Stop Foreclosure Institute recently received a question from Tamra. She is buying a home and her agent is trying to talk her out of short sales.
Here is Tamra's question. "I am looking to buy a home. Some of the best priced properties are short sales. However, my agent won't show me these homes.
She keeps on telling me the prices are lower than the lender will accept and that short sale never close. What should I do? I am really interested in these homes, especially at the price they are being offered at."
Here was my answer. Tamra, you should talk to your agent and see what they dislike about short sales. Your agent may have had a bad experience with short sales in the past.
Short sales are a great way to purchase a home at a good price. They are tougher and take a lot longer than your average real estate transaction.
However, that doesn't mean you shouldn't consider them. Just be cautious with your search. Make sure the agent who has the house for sale has prior short sale experience.
Your agent can ask them what short sales they have sold in the past. If they or the people working with them have a good track of working with the banks, then you should be ok.
Remember, not every short sale is going to be approved at the listing price. But, if they banks feel the price is fair, then they will accept the offer.
So go look at some of those short sales. With a little luck one of them will be the perfect home that meets exactly what you are looking for.
Thinking about a short sale? I can help you short sale your property and never pay the bank another penny. Send me an e-mail at "andy@rtserve.com". I will contact you for a free consultation.
When we talk, I will explain how the process works in detail and answer any questions you may have. Discover how other sellers successfully completed a short sale and request a free consultation by calling me or dropping me an e-mail.
******************************************************************************
Well, that's all folks. If you have any real estate related questions, than please e-mail them to me at "andy@rtserve.com". Thanks for reading this. See you next week.
Sincerely,
Andrew Morris, Broker, Owner
Realty Trust Services
Phone Number: 440-427-0123 (Office)
E-mail: andy@rtserve.com
Stop Foreclosure Assistance Website: http://MortgageRx.org
Homes for Sale Website: https://rtserve.com
P.S. I have some networking requests for you:
1) I need some real rough office or warehouse space in westlake or a surounding area off I90 for a video studeo.  See the craigslist add http://rtsl.us/do
2) I have several skilled people in my network looking for jobs contact me for their resume. One is a buyer in the jewelry industry.  Another former client has experience as a nurses assistance and childcare teacher and is looking for a position in some sort of similar helping proffession.
This e-mail was sent to you because you provided me with your e-mail address at one time in the past. If you prefer NOT to receive our e-mails, then please unsubscribe by e-mailing hitting reply and typing in "unsubscribe" in your subject line. You will be immediately removed from any future mailings. Thank you.